2015
September 14
Hi, I'm Jessica, and I'm a witch. I'm not a traditional witch by any means–I believe witchcraft is making magick in any way one sees fit. I don't follow pagan holidays, I don't worship specific deities and I avoid spiritual labels. I make my own rules and rituals and design my own tools for manifestation. I like to refer to my type of witchery as "living the magick life," which means dreaming big, trusting the process of life, and training one's mind to see the miracle we're already living.
American Witch Magazine approached me to write an article for their site, and my wife asked me what I was going to write about. I told her probably my recent sobriety, to which she responded, "Boring! Wouldn't you rather write about something other than deprivation?"
Her reply brings me to my topic, which is, DON'T GIVE A FUCK ABOUT WHAT ANYONE ELSE THINKS OR SAYS.
Sobriety isn't necessary to the practice of witchcraft, but when I recently reached alcoholism of epic proportions, I made a decision to dry out and see life more clearly. Every single day I had been sick with hangovers, and drunken evenings left no time for spiritual work.
I was drinking myself dry of personal power. I was drinking to gloss over my irritations with others. I was drinking to numb myself to things I didn't like. I was drinking because I thought other people wanted me to. I was drinking because I was bored. I was drinking because I always drank. I was drinking because I was scared. I was drinking because I thought I couldn't have fun any other way.
So when my life coach helped me come to the decision to sober up 18 days ago, I felt so relieved. Finally! I won't be hungover every day! Finally, I'll remember my evenings! I won't hate getting out of bed every day!
I don't give a fuck if you drink or not. And I'm not saying I'll never drink again. But what this short time of sobriety has taught me is that to be a witch and practice magick, you cannot GIVE A FUCK WHAT OTHER PEOPLE THINK! There will always be naysayers and haters and people threatened by YOU DOING YOU. There will always be bad influences and people who drain your energy. Who cares? You don't have to give a fuck about them!
My personal power comes from stepping outside of my mind and connecting to source energy. It comes from seeing from a larger perspective and going with the flow. It comes from trusting that life loves me and I'm in the right place at the right time. It comes from my awareness of my connection to infinite intelligence, or god if you like to call it that.
Drinking was draining my personal power, and now I have more than ever. But I never could have stopped drinking if I took other people's opinions into consideration.
Hi, I'm Jessica, and I'm a witch. And I don't give a fuck about what you think.
(P.S. To my sweet wife, I love you and thank you for the article inspiration ;-)
2015
February 24
As long as I can remember, I wanted to create my own stationery company. I fetishized office supplies, Hello Kitty, Lisa Frank, and trapper keepers. Infatuated with the privacy of a diary, the smell of colored pencils, and the magic of graph paper, I always kept a Moleskine for notes and doodles.
After I learned about The Secret and Abraham-Hicks (those law of attraction folks), I became intrigued by the games Abraham suggested people play to raise their vibration and feel better. These processes got me excited, not only because they work, but because I immediately started seeing how I could design my own.

Gathering Momentum like a MF
I condensed a lot of what I learned from Abraham and other teachers into my first worksheet, Gathering Momentum. With spaces for gratitude, excitement, love, and intentions, Gathering Momentum was my first attempt at a positive thinking exercise.
That was four years ago! Since then, Kelly and I designed dozens of positive thinking worksheets for SchoolOfLifeDesign.com, our online store and resource center. Friends began downloading the worksheets and filling them out. We sold them to people all over the world. Over time, the quantity and diversity of exercises became overwhelming. Our friend Tracy asked us, "Which worksheet should I do when, and how often, and in what order?"
Thus the Monthly Manifestation Manual was born.

My filled-out Monthly Manifestation Manual
Using the flower of life grid as a template, we redrew and reimagined every worksheet on SchoolOfLifeDesign.com.
We wanted the book to be as Moleskinesque as possible, so we chose a hardcover journal to house our creation. Inside the book, the structure is simple: there is a daily page for each day of the month, and between each daily page is an individual exercise to help raise your vibration and enjoy your contrast. The daily pages aren't labeled with dates, so the book will last as long as you want. You can fill it out every day or once a week—it's up to you.
We launched the first edition of MMM at our Rave Cave art show on January 10th. It was a huge success and we soon had to order the second edition. Friends started asking us to vend our merchandise at electronic music shows in downtown Austin, TX, and it's been thrilling to hand over copies of my life's work to someone new.

Slangin' merch at Empire Control Room in Austin, TX
I've been filling out my own Monthly Manifestation Manual nearly every day, and yesterday I finished my first copy. Magick and hilarity assuredly ensued.
Every day there is a space for a "To Do Not Give A Fuck About" list, which is meant to replace a traditional to-do list. Every day, I write down my big to-dos or things that are stressing me out. And as I've gone back and reflected on each entry, I've found that every single item has worked itself out, without my involvement.
Using the Monthly Manifestation Manual to focus my attention nearly every morning has changed my life. Each day I fill it out, I am reminded of all the good in life. I remember that I am the creator of my reality. I remember that I get to choose how I feel. I remember that I have to become it to see it. I remember that life is truly magickal and I can trust the process of life. I remember that I get to choose my perspective.
Keeping an MMM also helps me remember my dreams (there's a space each day to record them), reminds me to set intentions for the day, and most of all, it helps me appreciate all that I already have in life. Even my problems are a blessing, because they are helping me discern what I want in life.
Each day I fill out a page in the MMM, something magickal happens. My wish comes true, or a problem solves itself, or I start feeling good for no reason. This book is powerful. It reminds me that I am a divine being—with powers beyond my understanding—who is finding more to appreciate about life one page at a time.
If you'd like your own copy of the Monthly Manifestation Manual, you can order a $25 hardcover from Lulu.com (it takes about 8 days to print and ship), or download a $12 PDF right here.
---
---
---
---
When you purchase your Monthly Manifestation Manual digital download, you will receive two e-mails from PayPal. The first is your confirmation email; the second will arrive shortly after and contains your product download link.
---
---
Purchase your own hardback version of the Monthly Manifestation Manual and receive your book, shipped directly to you, within 8 business days.
---
---
---
---
---
Dive Deeper into MMM
---
MMM Trailer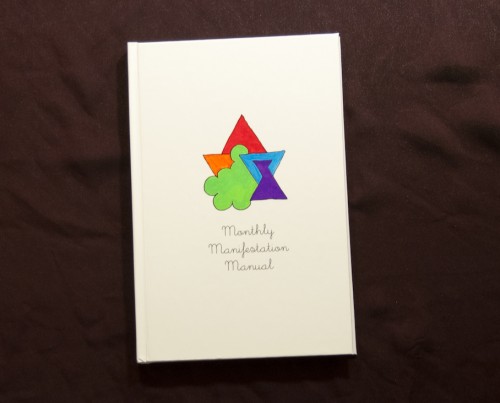 Tracy's Personalized Cover
Tracy's Daily Page
Tracy's Masterpiece
Posing with MMM
Behind the Scenes
Bigger the Art, Closer to God
---
---
---
---
When you purchase your Monthly Manifestation Manual digital download, you will receive two e-mails from PayPal. The first is your confirmation email; the second will arrive shortly after and contains your product download link.
---
---
Purchase your own hardback version of the Monthly Manifestation Manual and receive your book, shipped directly to you, within 8 business days.
---
---
---
---
---
If you're a School of Life Design subscriber, you can
log in and download your copy of the MMM here
. (Pssst... if you sign up for a month of the
School of Life Design subscription
you get your digital copy for $9 instead of $12).
---
---
---
---
---
2014
December 31

I am so happy to be spending NYE doing things I'd love to be doing for all of 2015: hooping, writing, publishing books, listening to Nicki Minaj, making videos, meditating, and loving my wife and home and friends and family and kitties.
I have a few intentions for 2015: above all, RELAX. Also, to eat more protein and less sugar and fat, to try a little harder at the gym, to count as high as I can every day. Last year didn't play out exactly as I envisioned, but I did publish a new book and release a few addictions and face a LOT of my fears.
Today I am celebrating how far I've come, from bulimia and drug addiction and self-hate, to hula hoops and my own book of spells and fucking PRESENCE. Today I am toasting to the magick life!
Here's Alexandra Franzen's New Year worksheet from last year, let's do it again!
In 2015, I am building: my bad bitch side. (The side that DOES ME. The side that doesn't feel guilty. The side that asks for what she wants and stands up for herself. The side that rules the world!)
This building — my body of work — will include a few very helpful offerings for the world, including: (1) the most refined, beautiful, powerful magickal book of spells in the world and (2) video entheogens.
In order to build what I want to build, I'll need to release / remove a few things from my world, including: worrying, distraction, unfocused attention.
Because what I really want to be known for is being: a sexy acid alien beaming your bitch up.
When things start to feel overwhelming, I will keep it simple by reminding myself that my job is simply: 12345678910.
And by this time next year, I will be SO proud to have completed ONE big thing, which is unconditional self love.
And THAT is my plan for 2015.