2015
February 24
As long as I can remember, I wanted to create my own stationery company. I fetishized office supplies, Hello Kitty, Lisa Frank, and trapper keepers. Infatuated with the privacy of a diary, the smell of colored pencils, and the magic of graph paper, I always kept a Moleskine for notes and doodles.
After I learned about The Secret and Abraham-Hicks (those law of attraction folks), I became intrigued by the games Abraham suggested people play to raise their vibration and feel better. These processes got me excited, not only because they work, but because I immediately started seeing how I could design my own.

Gathering Momentum like a MF
I condensed a lot of what I learned from Abraham and other teachers into my first worksheet, Gathering Momentum. With spaces for gratitude, excitement, love, and intentions, Gathering Momentum was my first attempt at a positive thinking exercise.
That was four years ago! Since then, Kelly and I designed dozens of positive thinking worksheets for SchoolOfLifeDesign.com, our online store and resource center. Friends began downloading the worksheets and filling them out. We sold them to people all over the world. Over time, the quantity and diversity of exercises became overwhelming. Our friend Tracy asked us, "Which worksheet should I do when, and how often, and in what order?"
Thus the Monthly Manifestation Manual was born.

My filled-out Monthly Manifestation Manual
Using the flower of life grid as a template, we redrew and reimagined every worksheet on SchoolOfLifeDesign.com.
We wanted the book to be as Moleskinesque as possible, so we chose a hardcover journal to house our creation. Inside the book, the structure is simple: there is a daily page for each day of the month, and between each daily page is an individual exercise to help raise your vibration and enjoy your contrast. The daily pages aren't labeled with dates, so the book will last as long as you want. You can fill it out every day or once a week—it's up to you.
We launched the first edition of MMM at our Rave Cave art show on January 10th. It was a huge success and we soon had to order the second edition. Friends started asking us to vend our merchandise at electronic music shows in downtown Austin, TX, and it's been thrilling to hand over copies of my life's work to someone new.

Slangin' merch at Empire Control Room in Austin, TX
I've been filling out my own Monthly Manifestation Manual nearly every day, and yesterday I finished my first copy. Magick and hilarity assuredly ensued.
Every day there is a space for a "To Do Not Give A Fuck About" list, which is meant to replace a traditional to-do list. Every day, I write down my big to-dos or things that are stressing me out. And as I've gone back and reflected on each entry, I've found that every single item has worked itself out, without my involvement.
Using the Monthly Manifestation Manual to focus my attention nearly every morning has changed my life. Each day I fill it out, I am reminded of all the good in life. I remember that I am the creator of my reality. I remember that I get to choose how I feel. I remember that I have to become it to see it. I remember that life is truly magickal and I can trust the process of life. I remember that I get to choose my perspective.
Keeping an MMM also helps me remember my dreams (there's a space each day to record them), reminds me to set intentions for the day, and most of all, it helps me appreciate all that I already have in life. Even my problems are a blessing, because they are helping me discern what I want in life.
Each day I fill out a page in the MMM, something magickal happens. My wish comes true, or a problem solves itself, or I start feeling good for no reason. This book is powerful. It reminds me that I am a divine being—with powers beyond my understanding—who is finding more to appreciate about life one page at a time.
If you'd like your own copy of the Monthly Manifestation Manual, you can order a $25 hardcover from Lulu.com (it takes about 8 days to print and ship), or download a $12 PDF right here.
---
---
---
---
When you purchase your Monthly Manifestation Manual digital download, you will receive two e-mails from PayPal. The first is your confirmation email; the second will arrive shortly after and contains your product download link.
---
---
Purchase your own hardback version of the Monthly Manifestation Manual and receive your book, shipped directly to you, within 8 business days.
---
---
---
---
---
Dive Deeper into MMM
---
MMM Trailer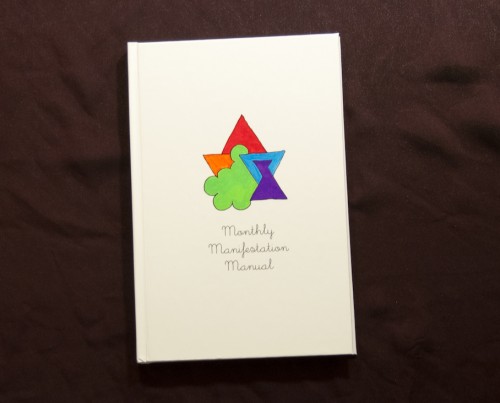 Tracy's Personalized Cover
Tracy's Daily Page
Tracy's Masterpiece
Posing with MMM
Behind the Scenes
Bigger the Art, Closer to God
---
---
---
---
When you purchase your Monthly Manifestation Manual digital download, you will receive two e-mails from PayPal. The first is your confirmation email; the second will arrive shortly after and contains your product download link.
---
---
Purchase your own hardback version of the Monthly Manifestation Manual and receive your book, shipped directly to you, within 8 business days.
---
---
---
---
---
If you're a School of Life Design subscriber, you can
log in and download your copy of the MMM here
. (Pssst... if you sign up for a month of the
School of Life Design subscription
you get your digital copy for $9 instead of $12).
---
---
---
---
---
2013
December 18
Your attention creates, so it's fun to train your attention to create the things you want. The easiest way to train your attention is by keeping it simple: stay focused on your breath. The longer you practice keeping your focus on a single object (or thought), the more control you have over the mind. The more control you have over the mind, the less negative thoughts you think that muck up your life, and the more positive awareness you have of the depth, light and love in life.
When you're just coasting along in life, training your attention through meditation and conscious breathing keeps your focus muscles strong. But say something big didn't go your way, and now you are dealing with disappointment, anger, or self-doubt. Below is a process to take advantage of your high contrast circumstances to train your attention.
1. Notice the patterns in how you've been feeling.
I woke this morning after tossing and turning for hours, unable to sleep. I felt irritated that I was unable to sleep.
Across the bed, my cat was itching away at some kind of allergic reaction. I felt irritated and helpless.
I checked my email. I didn't get this teaching job that I applied for. I felt irritated because I'm going to have to tell my mom. It feels like I just got stamped with "Loser."
I know that I've been caring what other people think. Irritating. I tried to impress my parents. Beyond irritating. I tried to impress the person who interviewed me. Absolutely grating. I started compulsively checking my email again, looking for ego boosts. What comes after grating?
2. Deliberately direct your thoughts with a conscious creation exercise.
Once she heard the news, Kelly reminded me to do a Self-Doubt Alchemy worksheet. I cried and felt sorry for myself for a couple minutes, but then I took her advice and filled out the prompts:
What I'm afraid others think or say about me: "Failure! Not good enough! Cocky! Unprofessional. Wrong. Stupid. LOSER."
What I know to be true: "I'm not afraid to fail. My worth is not based on external circumstances. I am in the right place at the right time. I'm beyond professional. I am confident in my teaching. I am changing the world. It's working out. The universe is up to its tricks. I'm smart for following the flow. I am winning by breathing."
3. Dream a bigger world for yourself.
So I didn't get the job. Although my ego took a huge blow, I know I'm onto bigger and better things. The contrast of this situation has caused me to create a bigger and better world, where:
I don't care whether my parents are happy with me or not.
I'm not checking my phone for positive feedback, looking for other people to tell me my worth.
I am my reason for feeling good--I know my worth.
I keep my attention on my connection to source, giving it out only to things I truly want to invest in.
4. Find some new thought patterns that feel good.
No more attention on the itchy cat. No more attention on the failure. My attention is fixed firmly on my third eye and on my breath--my connection to source. Fuck spending my limited attention on what I don't want. What I notice, I get more of, and I can choose to notice other things. I can choose new thought patterns, like:
I am a success because I am present in this moment.
I am a success because I am breathing consciously.
I am a success because I am connected to source.
I am a success because I don't give a fuck what others think.
I am a success because my happiness is independent of circumstances like jobs or health.
Today, when someone asks me how I am, I'll say, "Great!" Because I am. I am alive. I am conscious. I am awake. And I know something bigger and better is coming my way. And when it comes, I'll be just as happy as I am now, because my happiness is independent of circumstances.
5. Say a little prayer and leave it in the hands of the universe.
I release my drive to achieve. There is nothing I can do. I am allowing my existence to unfold like a flower. Life, guide me with your flow. I'm paying attention.
---
---
---
Since I used these five steps earlier, I've made peace with the situation (it's not what I really wanted anyway), and now feel excited about the new opportunities coming my way. This high contrast moment has caused me to finely hone my attention, and now I feel like I have a tool with which to create something outta this world. Thanks universe!
---
---
---
---
---
---
Wouldn't it be nice to go to the Austin Blogcademy?!
---
---
---
---
---
---
---
---
---
---